This post is this weeks entry for the writing workshop over at Sleep Is For The Weak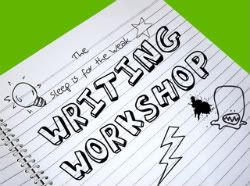 This week I chose this prompt:
"Share a powerful memory, or memories, from your childhood.
Thinking back to my childhood, one of my earliest memories is bathtime with my little brother and sister and then getting dressed in these horrible blue nylon nighties. I think the nighties must have initally been our big sisters as looking back they seen old fashioned even for the late 70's/early 80's. We used to all want mum to towel dry our hair as dad was too rough with the towel. I don't remember us having a hairdryer back then. We'd all be sat on the carpet in front of the fire downstairs whilst mum and dad got us ready for bed, we then got a glass of milk and packed off upstairs. If mum was working which I remember she sometimes was then dad only gave us tiny glasses of milk. I remember me and Sonia laughing at how little he gave us one night, there must have been about an inch of milk. Occasionally we'd all be propped up on the sideboard for a quick photo like this…
That's me on the right by the way
Oooh and then there was the haircuts. Do you remember the pageboy haircut? you know the one where it looks like somebody had just put a bowl over your head and cut around it? Awful weren't they? Well take a look at these fine examples. Remind me never ever ever to cut MissB's hair like this
I apologise now to my little sister for posting these photos but I'm sure she will remember all of this too!
That's me on the left this time
I have a few sad memories of childhood, our dogs Kim and Tammy dying, when my big sister moved out, listening to my parents arguing and planning with my little sister which one of us was going to live with each one of them and look after them. I have to say my parents are due to celebrate their 45th wedding anniversary this year so we never had to put our plans into action.
I remember my sister waking me up in the middle of the night telling me there was something in her bed. After an investigation we found my brothers hamster curled up in bed with her. Of course this brought about much laughter and giggles and we took the hamster back downstairs to his cage. I remember my dad came marching through telling us to be quiet and not believing us when we told him we'd found the hamster in Sonia's bed.
I remember me and Sonia spending hours playing with make up and dressing each other up and taking photos of each other, I remember our little gangs and the dens we used to build in the local wood. I remember roller-skating for miles and skateboarding down the bank. I remember playing out until it went dark nearly every night with the other children which lived in our street. I remember recording tapes pretending we were radio DJ's. I remember going cycling with the whole family on the old railway line between Buxton and Asbourne. We biked for miles every weekend and even after falling off and grazing all my knees and having a nose bleed we just got back on and kept on biking. I remember climbing trees, climbing them so high that the branches could barely hold our weight, swimming in the dams down at the local river, exploring the caves, collecting snails, building snowmen. I don't think we ever had time to watch television back then
I remember getting our milk from the "milk lady", a farmer that my dad knew. We'd meet her at a layby on the A6 every so often and get a great big supply of fresh milk from the farm. I remember Christmas's – oh how can I forget christmas's. With a big family, we weren't very rich but I remember christmas mornings running downstairs to find the whole living room filled with piles of presents, nice shiney bikes, dolls, selection boxes, pretty much everything we ever asked for. Looking back I still don't know quite how my parents managed to afford everything they bought us.
I could go on for hours and hours. 99% of my memories are fantastic. We had so much fun, so many laughs, lots of arguement – well with the youngest 3 of us all within 3 years of age it was guaranteed really. I'm getting quite emotional just thinking back to it all.
Finally one last photo to share with you
The youngest 3 of us at primary school. I'm in the middle. Don't we look a cheeky bunch – can you just imagine the trouble that we all got into